Tyre Laws
HEAVY GOODS VEHICLES over 3500kgs
The legal minimum tread depth in the UK for HGV's (above 3500kgs) is shown below;

The tyre must have a minimum pattern depth of 1.0mm throughout a continuous band measuring at least three quarters of the breadth of the tread and round the entire outer circumference of the tyre.
OR
If the grooves of the original tread pattern did not extend beyond three quarters of the breadth of the tread, any groove which showed in the original tread pattern must have a depth of at least 1.0mm.
NOTE: Exclusions from the definition of tread pattern are: – tie bars, tread wear indicators, any feature designed to wear out substantially before the main grooves
CAR & PASSENGER VEHICLES up to 3500kgs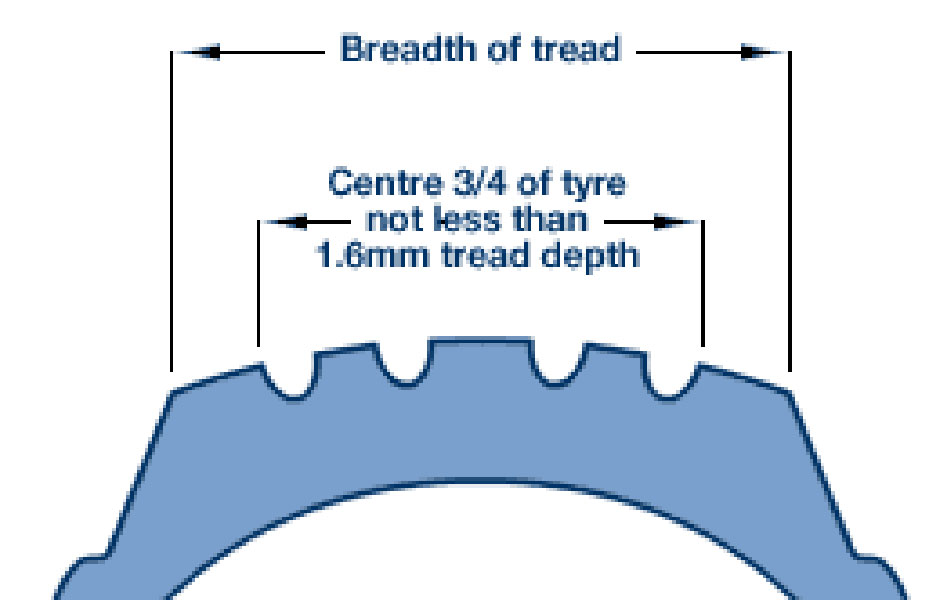 The legal minimum tread depth for car and similar tyres in the United Kingdom and the European Community is 1.6mm throughout a continuous band comprising the central three quarters of the breadth of tread and round the entire other circumference of the tyre.
Most car type tyres have tread wear indicators, usually at least six small ribs across the bottom of the main tread grooves, and when the tread surface becomes level with these ribs the tyre is at the legal limit and must be replaced.
Simple and cheap gauges are widely available to give an acceptable guide to tread depth. One of the features of tyre tread features of tyre tread pattern design is to give good grip in wet conditions. Generally speaking available grip reduces as the tyre wears or as the road surface water depth increases and you should reduce speed in such conditions.
The 1.6mm MINIMUM LIMIT APPLIES TO: 
CARS AND PASSENGER VEHICLES with up to 8 seated passengers – not including the driver
MOTOR VEHICLES & LIGHT TRAILERS  (including caravans) up to 3500kg gross vehicle weight.